Can You Top This New Orleans-Style BBQ Shrimp?
Laguna Hills, California
MAPPING THE DAY
New Orleans is one of our favorite travel and dining destinations.  There is nothing like fresh gulf shrimp.  On our many trips there, we have ordered shrimp boiled, fried, sauced, Po Boy sandwiched and sautéed.  It is sweet, firm and fresh-tasting.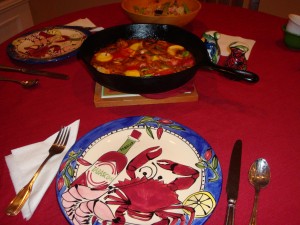 Nearly 15 years ago, KO and I lived in a small mountain community 90 minutes from Los Angeles.  Dining venues in Lake Arrowhead are limited.  So we always relished a chance for a new dining experience.   The day we drove down the mountain to look for a home to buy in Orange County, we happened upon King's Fish House in Laguna Hills for lunch.
LOCAL STORY
In 1998, King's had only a couple locations here in Southern California.  It has grown to more than 20 restaurants now, but our original dining experience was the next best thing to flying to New Orleans.
Craving good seafood that first day, we pondered the large menu of fresh offerings.  We ordered the N'awlins BBQ Shrimp, a perfectly prepared vessel of shrimp in a sweet and savory sauce.  It was the memorable beginning to our new life in Orange County.  We ended up finding a new home that first day.  And, we lived there for 13 years.
VIEW FROM THE TABLE
For our first visits to King's, we always dined in the clubby dining room with comfortable booths.  Over the years, we have evolved to preferring to eat in the bar.  There are large communal tables and an inviting bar to mingle with other patrons and friendly bartenders.  Wherever you choose to sit, a plate of crusty sourdough bread always welcomes you.  The bread is a must when you eat New Orleans Barbequed Shrimp.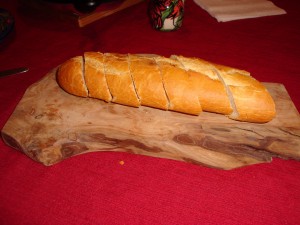 NEW ORLEANS BBQ SHRIMP
RECIPE