Easy Technique for Party Perfect Presentation
Mission Viejo, California
Continuing with our MLB Opening Day party planning, Chicken Satay with Spicy Peanut Sauce is featured. An easy technique ensures the presentation is party perfect. When your guests arrive, set your appetizer table with Fresh Spring Rolls, Chicken Satay and a bowl full of peanuts in the shell. It all says: "Yippee, baseball season is here!"
Mapping the Day
The pupu appetizer at one of our favorite Chinese restaurants  years ago served Chicken Satay right. Marinated, skewered and pre-cooked chicken came on a tiny hibachi for table-side grilling.  We have always struggled with bamboo skewers on the outside grill. No matter how much they are soaked in water, they burn.  From now on, we are taking the lead from our restaurant friends.
Local Story
After cubing and marinating chicken breasts, place three pieces on short skewers for appetizer portions. Then, instead of placing them on direct fire to cook, preheat a cast iron skillet or flat top on high heat on the outdoor barbecue.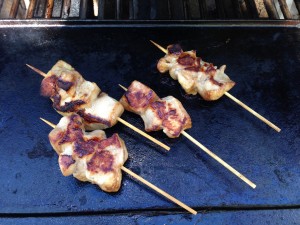 Cook fully on the cast iron.  Just before serving, place over the open fire for just a few moments for a smokey grilled finish.
View from the Table
For your Opening Day Peanutty Party, place cooked satay on a serving plate with dipping sauce and let guests help themselves to a tasty, spicy and peanutty bites. Just have plenty of cold beer and cocktails to quench guest thirsts.
Chicken Satay with Spicy Peanut Sauce
RECIPE