Culinary Walking Tour of Nassau
Nassau, Bahamas
A self-guided culinary walking tour in Nassau, Bahamas delivered surprising cuisine.  We researched the tour before we left home. Who knew there was authentic Greek food in downtown Nassau? An easy Greek appetizer is now one of our go-to party foods.
Mapping the Day
This was our second visit to beautiful Nassau, Bahamas.  We armed ourselves in advance with our own self-guided culinary tour. Thanks to a printed Google Map, turn-by-turn directions were in hand.  We were set to try the best Bahamian offerings.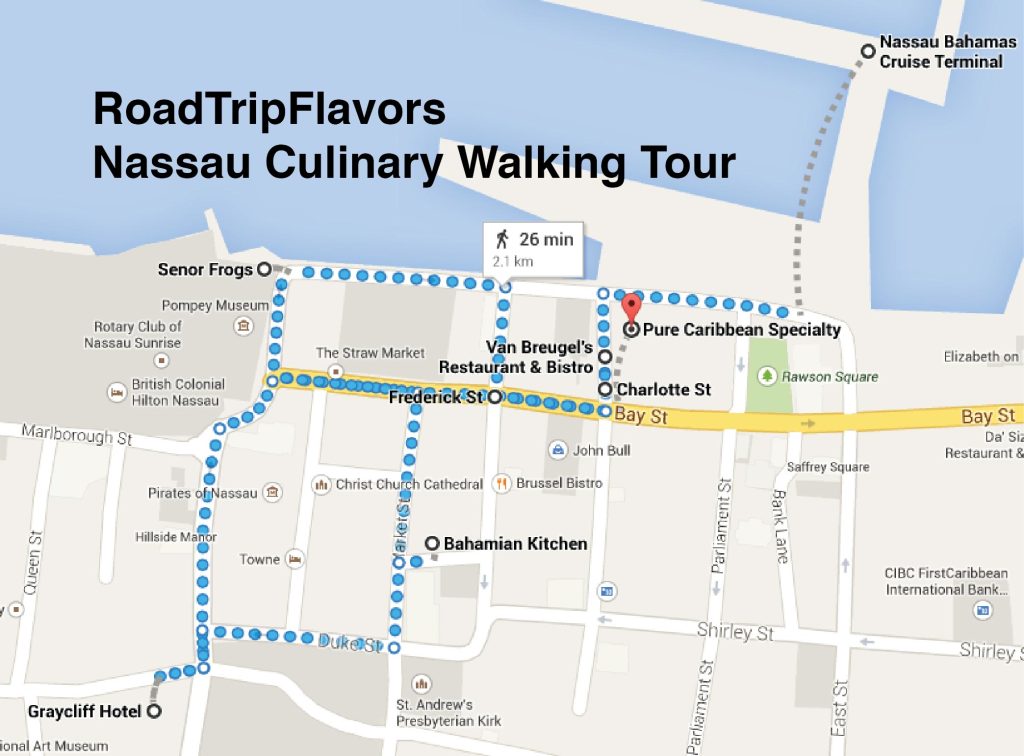 Local Story
Steel drums marked our cadence as we moved through the crowds in downtown Nassau.  It was late morning and already the humid hot climate zapped our energy. Taxi drivers, tour guides and shop keepers called for our attention. But we stayed the course for Bahamian cuisine. We planned to try conch soup, some Greek food, chocolate, Bahamian grouper, Kalik beer and rum cake.
View from the Table
At our first stop, Athena Cafe, our server was the owner's son.  He told us of his Greek father who first visited Nassau as a crewman on a cruise ship.  A deep love for the Caribbean island spurred him to "jump ship" and make Nassau his permanent home. He supported himself and his family by waiting tables, but eventually saved enough money to open his own restaurant. Traditional Greek dishes are artfully prepared and served to cruisers, vacationers and locals alike at Athena Cafe.  We were still on our culinary tasting tour, so we opted to share a Greek appetizer: Spanakopita. It was delicious.

Soon we were recharged to return to our walking tour.  Nassau delivers spectacular views, architecture, art, beer and cuisine. Here's a RoadTripFlavors version of Spanakopita.
Spanakopita
RECIPE