RoadTrip on Stone Island in Search of Fresh Grilled Fish
Stone Island, Mazatlan, Mexico
Up until the end of 2010, Mazatlan was the third largest cruise port in Mexico, next to Cabo San Lucas and Puerto Vallarta.  The cruise lines have shied away from the port since then due to local crime.  We visited there in December 2010 and ventured on our own RoadTrip to Stone Island for the day in search of fresh grilled fish.
Mapping the Day
From the cruise ship terminal, we walked down a long walled block and crossed the street.  Our handwritten map, provided by cruise-veteran friends, guided us past the walled gate guarded by Federales, around the fishing boat launch to the water taxi dock.
There we each paid a few pesos for a round trip ticket to Stone Island.  In a few minutes we had crossed the channel and were greeted by an eager young taxi driver who beckoned us to board his truck bed converted to seats.  He promised to take us where we wanted to go and pick us up again.  Our leap of faith took us on the dirt backroads of Stone Island and then onto the beach for a wonderful day.
Local Story
As we walked the strand, we watched the juxtaposition of tourists and locals.  There is a deliberate dance of visitors seeking inexpensive activities, wares and food with locals eagerly seeking to make their modest living.  As guests of any location in the world, we try to honor the locals with our interest in their lives and culture.  When we take the time to get to know the people, a visit is just that more memorable.  We especially enjoyed our hosts at Victor's on the Beach.
View from the Table
Under the shade of umbrellas, we sat down for lunch.  We ordered chips with pico de gallo, Pacificos and grilled fish platters.  When our daughters asked for a spicier version of pico, our host scurried away to concoct a custom version of his recipe for them.  He picked small red peppers from a plant adjacent to his outdoor kitchen.  Chopping and mixing soon resulted in a hot and spicy pico made to order.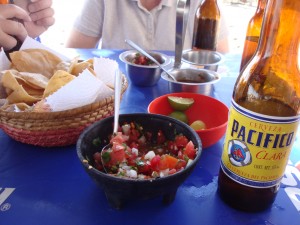 A firm, fresh white fish, coated with a spicy rub and cooked on a firey hot grill became our lunch. Each mouth-watering bite called for another gulp of Pacifico.  "Mas cervesas por favor!"
When we finished our meal, our waiter graciously called our taxi driver back to the restaurant to take us to the water taxi dock.  Such nice people.
We prepare our fresh grilled fish just like Victor's on Stone Island and then serve it in a corn tortilla with cabbage and Creamy Taco Sauce.  Here's our version of Victor's grilled fish.
Stone Island Fish Tacos
RECIPE