Empanadas: One of the World's Perfectly Wrapped Gifts of Food
Southern California
MAPPING THE DAY
Wrapped up like a present, there are certain foods throughout the world's cuisines that entice you to take a bite to reveal the secret filling inside.  Tamales, lumpia, éclairs, raviolis and gyoza are just a few of the neatly wrapped gifts of food that the world has to offer.
Recently, empanadas have attracted our attention.   So investigating further, we have discovered (for those of you who are empanada virgins like we were a few months ago) that empanadas are prepared in many regions throughout the world.  They can be found in Latin America, Asia and Europe.  They are made by folding dough over a stuffing of meat, cheese, vegetables or fruit.  They are then baked or fried.
LOCAL STORY
There is an Italian/Argentinian restaurant, called Villa Roma in Laguna Hills (www.villaromarest.com), a few miles from our home that serves empanadas as an appetizer for a mere $1.95 each.  There's also an empanada vendor at our local Mission Viejo Farmers Market on Fridays.  Last week we tried his mushroom-filled version.
The more we look, the more we see empanadas. Now that we have tried them, we are in search of perfection in a pocket of filling.
VIEW FROM THE TABLE
Of the empanadas we have tried so far, we like a chicken and vegetable filling.  We are also very fond of traditional Chimichurri on the side for dipping.  We love empanadas so much, we have been experimenting on our own.  We will continue to try them on our future RoadTrips and fine-tune our recipes.  But here is our first attempt in honor of National Empanada Day!
Empanadas
RECIPE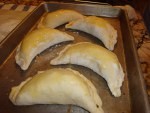 Chimichurri Sauce
RECIPE