City Dogs and More Small Plates
Paris, France and Mission Viejo, California, USA
Paris boasts many small plates restaurants that inspired our recipe for Chupe below.  We were also inspired by City Dogs who even dine in restaurants in Paris.  For a casual meal with your beloved pups by your side, make this easy soup recipe and pair it with our Roasted Hazelnut and Chopped Romaine Salad.  Add a little French bread on the side.
Mapping the Day
City dogs in Paris mind their manners. How French! Many are so very well trained that they walk right along side their owners, even in heavy traffic, without a leash. We saw a dog training class at the Tuilleries Garden in the shadow of the Louvre. And some restaurants even allow diners to bring their small dogs to their tables. But the dogs in Paris reminded us of our three waiting for us at home.
Local Story
Fast forward to our return to Mission Viejo, we were welcomed home by our pups with leaps of joy. Everything was going so well, so manageable. So what happened next was certainly not planned or even contemplated in advance. K.O. was looking at Facebook and a sweet little dog face grabbed her attention.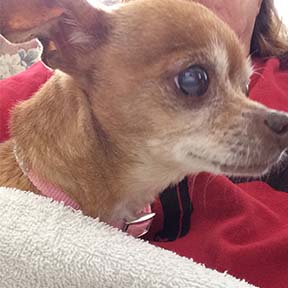 Ginger, an 18-year-old chihuahua, needed help. Her family surrendered her to a kill shelter in Los Angeles for financial reasons. They could not afford Ginger's care. By some miracle, the shelter gave her the extensive surgery she needed: spay, double mastectomy and hernia repair. Now she had been waiting in the shelter for adoption for several weeks. How could we ignore Ginger after all she had been through? Well, long story short, she is here now.   She is safe, comfortable, well fed, clean and loved. She has really thrived here. But she has given us much more than we have given her. She has led by example to remind us of important things in life.
Keep moving. Ginger makes the most of her outdoor time with exercise. She stretches, walks the yard perimeter and even jogs at bit even though her back and legs are very stiff. She loves the fresh air.
Be grateful. It took a few days for her to trust, but Ginger shows us how much she appreciates everything in her new home with her enthusiasm and snuggles.
Respect others. Our other three dogs are a righteous brood. So we were concerned about how it would go with a fourth. Ginger respects the pack and knows that she is the newbie. She keeps to herself and allows the others to come to her.
Be patient. It takes time for Ginger to get up from her bed or to do her business. But keep in mind she is 18 or in her late 80's in human terms. She is worth waiting for, even when we think we need to rush off to do something else.
It's never too late to find love. This one speaks for itself. While on this earth, Ginger has her forever home. Each day is a gift. We all love her and she loves us back.
View From The Table
Now back to Paris on our last night at our favorite haunt Ferdie, a woman walked in to the restaurant with her little chihuahua in her arms. There was no problem, they were seated at a booth so the little dog was comfortable while her family enjoyed their meal.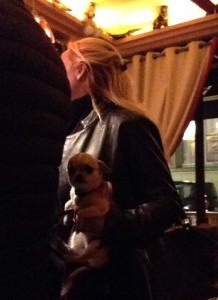 We were so ready to go home to our loved ones, but first we were to enjoy another amazing small plates dinner. That night we were introduced to a hearty soup called Chupe. The chef at Ferdie is originally from Venezuela, so her Chupe uses the traditional South American technique. It is then refined by the flavor of creamy Edam and Smoked Gouda cheeses. We experimented a bit and are quite pleased with our resulting recipe. Yes, our dogs were offered a little taste treat after our dinner. They loved it!
Chupe
RECIPE