Carne Asada "Freebird-Style"
Santa Barbara, California
  By Guest Blogger Margaret Dubel Teacher, UCSB Alunni and Mexican Food Aficianado
MAPPING THE DAY
In September of 1999, I began a love affair with carne asada nachos that has lasted to this day.  These are not your everyday nachos that you can find at nearly every Mexican food joint in Southern California.  These nachos are the staple of every college student that has attended University of California Santa Barbara.  They can only be found at a notorious little establishment called Freebirds.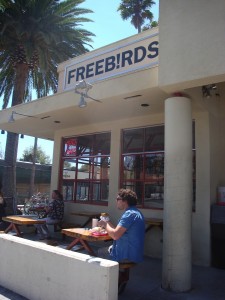 LOCAL STORY
Freebirds is on the corner of Pardall Street and Embarcadero Del Norte just a block from the UC Santa Barbara campus.  It opened in 1987 and has been an institution ever since.  What makes Freebirds so unique is the cafeteria-style ordering where each customer is able to customize a burrito, taco, nachos or quesadilla by choosing quality, prepared ingredients.  The fact that it is the only restaurant in Isla Vista that is open 24 hours makes it extremely popular for late-night diners.  Many people have attempted to replicate the Freebirds model (even creating nation-wide chains), but none of them have been able to match the taste and quality of the original in Isla Vista.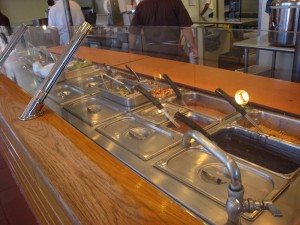 While visiting the campus this summer, I was eager to see if the Freebirds of my memory matched the Freebirds of today.  I anxiously waited in line, ordered my usual entrée and sat outside on the patio.  To my delight, Freebirds has remained exactly the same as it had when I graduated in 2003.
VIEW FROM THE TABLE
The Carne Asada Nachos are my go-to meal, but everything at Freebirds is amazing.  Most of the entrees are big enough to share with at least one other person.  The nachos start with fresh corn tortillas that are fried in-house and are topped with a mound of freshly grated Monterey jack cheese.  Next, my nachos are topped with black beans (though you could also choose refried or pinto beans), freshly grilled carne asada (grilled chicken breast is also available), cilantro, diced onions, pico de gallo, roasted garlic, and the SPICY tomatillo salsa.  There are a multitude of possibilities and each time you go to Freebirds, you seriously could get something different.  They have several homemade salsas, guacamole, and sour cream that all add something different to the flavor palate.
Carne Asada
RECIPE