Capri's Parigina Pizza
Capri, Italy
MAPPING THE DAY
The ferryboat ride from Sorrento, Italy was in rough seas stirred by gusty winds.  Apprehensive, we remained brave as we made our way to the small island of Capri.  Once at the port, we left the ferry and climbed into the Funicolare that took us to the top of a steep mountain.
As we climbed, the views became more and more magnificent.  In the cliff-top town there is a charming little square filled with shops and restaurants.  We wandered through leisurely.  We were constantly in awe of the 180 degree views of the Tyrrhenian Sea and The Gulf of Naples below.
After a few hours exploring, we found a little bakery for a snack.  Our grasp of the Italian language is terribly limited.  And not that we expect it, but no one in the bakery spoke English either.  We pointed at a pizza-shaped snack in the case.  As we took our first bites in the corner of the small bakery, we knew we had stumbled upon something special.  But what was it called?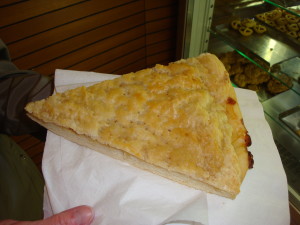 LOCAL STORY
Fast-forward to today, the delicious little snack kept coming to mind.  On the internet, I found a listing of all the restaurants in Capri.  I knew the name of the bakery we had visited: Lo Sfizietto.  The only place with a name even remotely similar to the bakery we visited is a restaurant called Lo Sfizio.  I followed a link to the restaurant website and there I found an email address.
So I wrote: "I visited Capri in 2011.  I am hoping you can help me identify this wonderful pizza-like snack that I had at Lo Sfizietto.  Here is a photo of the place where I bought it and the pizza that I had.  Can you tell me what it is called?  Can you give me the recipe?"
Within 30 minutes, I had a reply. Annalisa explained that Lo Sfizietto was not related to her restaurant and it had sadly closed a few months after we were there.  But she was able to identify the pizza snack we had on Capri.  She said:
"We call it 'Parigina'. It is basically a piece of pizza with ham and cheese closed on the top with a layer of what we call pasta sfoglia (sorry I don't recall the name in English, could be puff pastry?)."
Then she provided a link to the recipe for Parigina.  She closed saying:
"The recipe is in Italian. Do not hesitate to contact me again if you need help in translating it, I can try to do so in my rusty English. Enjoy your Parigina and maybe see you next time you come to the island.
Kind regards from Capri, Annalisa"
VIEW FROM THE TABLE
In our travels, we find common ground with others.  A little bite of local flavor developed into a connection with a generous person on the other side of the world. We cannot wait to return to Capri and try to find our new cooking friend Annalisa.
PARIGINA
RECIPE